The King is Sovereign of all the British Orders of Chivalry, each of which is directly associated with a chapel where its members have their stalls. Such chapels exist within several major churches including St Paul's and Westminster Abbey in London and St Giles' in Edinburgh. St George's, Windsor is associated with two such chivalric orders.
The Royal Family and the Order of the Garter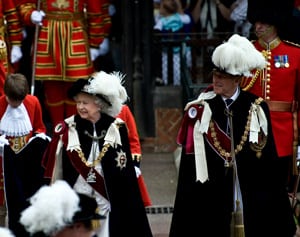 The King is Sovereign of the Order of the Garter, and each June he presides over the annual Ceremony of the Order. This comprises a luncheon in the Waterloo Chamber followed by an afternoon service in the chapel. The investiture of any new Knights takes place in the Garter Throne Room before the luncheon and they are formally installed within their place in the quire during the chapel service.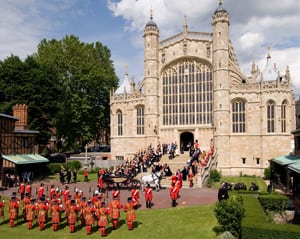 The late Queen Elizabeth II was declared a Lady of the Garter on 11 November 1947, a few days before her wedding to Prince Philip, Duke of Edinburgh. She succeeded her father as Sovereign on 6 February 1952.
The other Royal Knights and Ladies in the reign of Queen Elizabeth II have been:
HM Queen Mary, declared 3 June 1910, died 24 March 1953
HRH The Duke of Windsor, nominated 10 June 1911, died 28 May 1972
HRH The Prince Henry, Duke of Gloucester, 31 March 1921, died 10 June 1974
HM Queen Elizabeth (The Queen Mother) 14 December 1936, died 30 March 2002
HRH The Prince Philip, Duke of Edinburgh, 19 November 1947, died 9 April 2021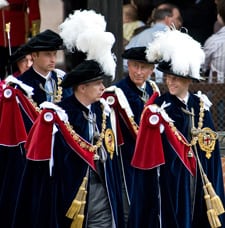 HRH The Prince Charles, Prince of Wales, 26 July 1958 (invested and installed 1968). Sovereign of the Order from 8 September 2022
HRH Prince Edward, Duke of Kent, 9 October 1985
HRH The Princess Anne (The Princess Royal) 23 April 1994. (Some say 13 June 1994)
HRH Prince Richard, Duke of Gloucester, 23 April 1997
HRH Princess Alexandra, The Hon Lady Ogilvy, 23 April 2003
HRH The Duke of York, 23 April 2006
HRH The Duke of Edinburgh (as HRH The Earl of Wessex), 23 April 2006
HRH The Prince of Wales (as Prince William of Wales), 23 April 2008
The Royal Family and the Royal Victorian Order
The Royal Victorian Order, which was founded by Queen Victoria on 21 April 1896 as a way of rewarding outstanding personal service.
The Chapel of the Order is the Savoy Chapel in London, which is small. Therefore The Queen decided to hold a service of the Order every four years at St George's Chapel with a reception afterwards for holders of the order and medals. Such services have been held in 1978, 1983, 1987, 1991, 1995, 1999, 2003, 2007, 2011, 2015, 2019 and 2023.
The following members of the Royal Family hold the
Grand Cross of the Royal Victorian Order (GCVO) today:
HRH The Duke of Kent, 25 December 1960
HRH Princess Alexandra, The Hon Lady Ogilvy, 25 December 1960
HRH The Duke of Gloucester, 1 January 1974
HRH The Princess Royal, 15 August 1974 (Grand Master from 2007)
HRH The Duchess of Kent, 9 June 1977
HRH The Duchess of Gloucester, 23 June 1989
HRH Prince Michael of Kent, 2 June 2003
HRH The Duchess of Edinburgh (as The Countess of Wessex), 20 January 2010
HRH The Duke of York, 21 February 2011
HRH The Duke of Edinburgh (as The Earl of Wessex), 10 March 2011
HM Queen Camilla (as The Duchess of Cornwall), 9 April 2012
HRH The Princess of Wales (as The Duchess of Cambridge), 29 April 2019