The Queen normally worships at the Chapel of All Saints, in the grounds of Royal Lodge, Windsor Great Park, for reasons of privacy, but she attends services at St George's Chapel on certain special occasions. These include an Easter morning service every year.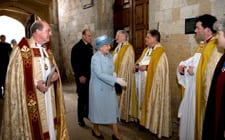 The Queen also attends services on occasions of particular importance such as the celebration of the Chapel Quincentenary in 1975, concerts to mark special anniversaries, the Opening of St George's House on 23 October 1966, the service in celebration of her 60th Birthday on 21 April 1986, and services to mark both her own and the Duke of Edinburgh's 80th birthdays in 2006 and 2001 respectively. On St George's Day in 2008, the Queen and seven other members of the Royal Family attended a service of thanksgiving to mark the 660th anniversary of the founding of the Order of the Garter and the College of St George.
The Duke of Edinburgh normally presides over the annual St George's House lecture, which other members of the Royal Family also attend.
The Prince of Wales and The Duchess of Cornwall attended a service of dedication and prayer in St George's Chapel following their marriage in April 2005.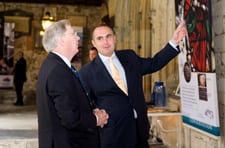 The Duke of Gloucester is a member of the Fabric Advisory Committee which advises the Dean and Canons on matters relating to the maintenance and enhancement of the Chapel and Cloisters.
Many royal baptisms and confirmations have taken place in the private chapel in the State Apartments of the Castle, involving the Dean of Windsor and the St George's Chapel choir. HRH Prince Henry of Wales was baptised in St George's in 1984, and HRH Prince William of Wales was confirmed at a service in the chapel in 1997.