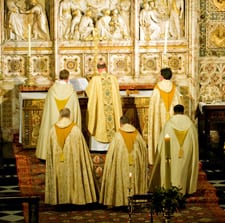 The College of St George is a religious community of lay and ordained people held together by a common purpose – to worship God and to serve the community at large. Its members have diverse gifts and skills which life in the College helps them to use fully.
In terms of organisation, each part of the College's life relates back to 'Chapter', an ancient title for a board meeting, usually through one of the Canons who has specific responsibility for that area.
So the Musicians, responsible for the Music performed in the services and some concerts in the Chapel, would be managed by the Director of Music, with the help of the Assistant Director of Music and the Organ Scholar. Ultimately they are answerable to the Canon Precentor.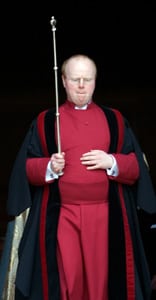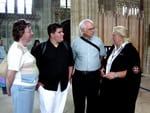 Likewise the Chapel Staff – the Succentor, the Minor Canon, the Virger, the Senior Sacristans, Sacristans and the Chapel Cleaners, all responsible for the management of the arrangements for the Services, would be answerable to the Precentor. The Chapel Staff also ensure the smooth running of the building when it is open to visitors.  Similarly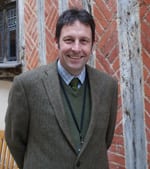 the Works Team, led by the Clerk of Works, are all responsible one way or another for the fabric of the College's buildings as well as the utilities, are answerable to the Canon Steward.
The College Accounts Office, under the management of the Financial Accountant, responsible for the College's finances, is answerable to the Canon Treasurer.
The pastoral care of both the community and members of the worshipping congregation, as well as visitors to the Chapel, is the responsibility of the Canon Chaplain assisted by the Succentor and in the Chapel itself by the Honorary Secretary of the Guild of Stewards and the Chapel Stewards (who are all volunteers).
The College Archives and the Chapter Library, all managed by the College Archivist and staff, are responsible to Chapter through the Canon designated as Canon Librarian.
Corporately the Chapter also exercises responsibility within the management of both St George's House and St George's School.