The Guild of Stewards of the College of St George
– 'A Ministry of Hospitality'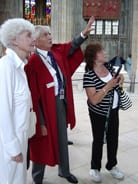 So often the quality of a visit is shaped by the welcome of the stewards or guides. Particularly is this so in the service given by Chapel Stewards at St George's. Its focus is the College's desire to offer its hospitality to visitors. It is also our wish that in coming to St George's, visitors will encounter not only the aesthetic experience of its harmonious architecture but also find it a house of prayer and worship. Seven Stewards on duty at a time share with the Virger (who co-ordinates the work of the Guild) and his team in providing a welcome to the Chapel, in offering whatever information about the building and its services as might be sought and in taking care for the safety and well-being of visitors. They also guide and conduct pre-booked tours and run the Information Desk. The stewards, easily identified by their red gowns, are on hand from 10 until 4 every day the Chapel is open, and are at your service.
The Guild Prayer

Loving God, You have called us to serve You
in this hallowed house of prayer.
Help us to see Your presence in the people we meet,
and keep us all in the arms of Your everlasting love and protection,
this day and always. Amen.
The Lay Stewards of St George's Chapel
The Lay Stewards of St George's Chapel were founded in their present form by Dean Robin Woods in 1966, and their first official occasion was the Service of Dedication of St George's House, opened by The Queen, on 23rd October 1966. Their basic duty is to assist at Sunday morning services throughout the year. They are also on duty at Garter Day and the four yearly service of the Royal Victorian Order. They assist every year at the St George's House Lecture, as well as being present at many special services, including Royal birthdays, weddings and funerals. Funerals and Memorial Services of Companions of the Most Noble Order are also part of their remit.
The overriding obligation of a Lay Steward is "to provide a Christian welcome to the Chapel, appropriate to the occasion or service; to direct worshippers with courtesy to their seat and to offer help and information to those attending services"
Appointment as a Lay Steward is rightly regarded as a considerable privilege and all the Lay Stewards in consequence strive to fulfil their duties in as exemplary a fashion as possible.
The Captain of the Lay Stewards is Mr Hugo Vickers, and he is assisted by Mr James Clark and Mr Martin Stanford as Vice Captains. Together they are responsible for the organisation of the Lay Stewards and are answerable to the Dean through the Chapter Clerk.
Other volunteers
Volunteers support the College in a number of ways around St George's Chapel including the Archives and Chapter Library. If you would like to find out more about volunteering please email: [email protected].