Captain Charles Eustace Fishbourne served in the Royal Engineers during the First World War. His contemporaries would have recognised him by his genial nickname, "Fishey", and they would have gladly told you about his love of reading and all about his many achievements after school. Fishbourne was a member of the St George's Chapel Choir between 1894 and 1899.  He returned often to St George's School years after his school days, to participate in Old Boys' Matches. One report (midsummer 1912) states that he opened the bowling and "bowled at a good pace and got 5 wickets for 27 – an excellent performance against a fairly strong batting side." Another entry also notes that "Fishbourne hit merrily until he was splendidly caught by Payne-Cook at mid-off from a very hard drive."
Fishbourne's life before the War was rather successful. He passed seventh out of his class at the Royal Military Academy, Woolwich, in 1905 and obtained a commission in the Royal Engineers. He reported that same year to the School Magazines that "he was working very hard surveying all day and astronomizing at night. He thinks that the Royal Engineers isn't the place for slackers." St George's School received regular updates of his progress, including sporting and theatrical exploits, as well as the growth of his moustache before Easter 1907: "Fishbourne is now stationed at Plymouth, and we are told has grown a beautiful moustache, otherwise he is the same as ever." That same year, he was promoted to Lieutenant.
In 1907, he departed for Africa to undertake important survey work in Uganda for the Colonial Office, notably at the rather young age of twenty-three. When he returned to Mombasa near the end of his trip, he met Mr. Winston Churchill, who was then the Colonial Secretary. Through his friendship with Churchill, he was nominated for a post at the newly formed London Traffic Branch of the Board of Trade. He also was invited to deliver a lecture to the Royal Geographic Society.
On 8 June 1911 in North Wales, Fishbourne married Mary Elizabeth, and took up a post as the assistant manager to the London General Omnibus Company the following year, retiring from active army duty to the Special Reserve Royal Engineers. At Easter 1913 the School Magazine reports: "Very many congratulations to Mr and Mrs Fishbourne on the birth of a son." When the War began in 1914, Fishbourne was quickly sent to the Western Front as a member of the Royal Engineers. He was wounded on 18 November of 1914 by a shell explosion in Ploegsteert in Flanders. Though his wounds were not life-threatening, he was sent home to recover. Fishbourne was later promoted to the rank of Captain and made the Adjutant of the Royal Engineers reserve at Chatham.
However, he soon contracted Spotted Fever (Meningococcal Meningitis). Captain Charles Eustace Fishbourne died of the disease on 10 June 1915. He was 30 years old. Fishbourne was buried at 'All Saints Gresford' where his father, Edward Fishbourne, was the vicar, and was accorded full military honours. In Fishbourne's obituary, a friend wrote about his unique personality and his "never-failing sense of humour and good nature that was entirely unspoilt by success." He left behind his wife, his son Patrick Alexander, and another son born five months after his death in November 1915, Charles Michael Eustace. His wife later married one of his classmates, Mr M. J. Tapper. C.E. Fishbourne is one of the names inscribed on the War Memorial Window about the north door in St George's Chapel.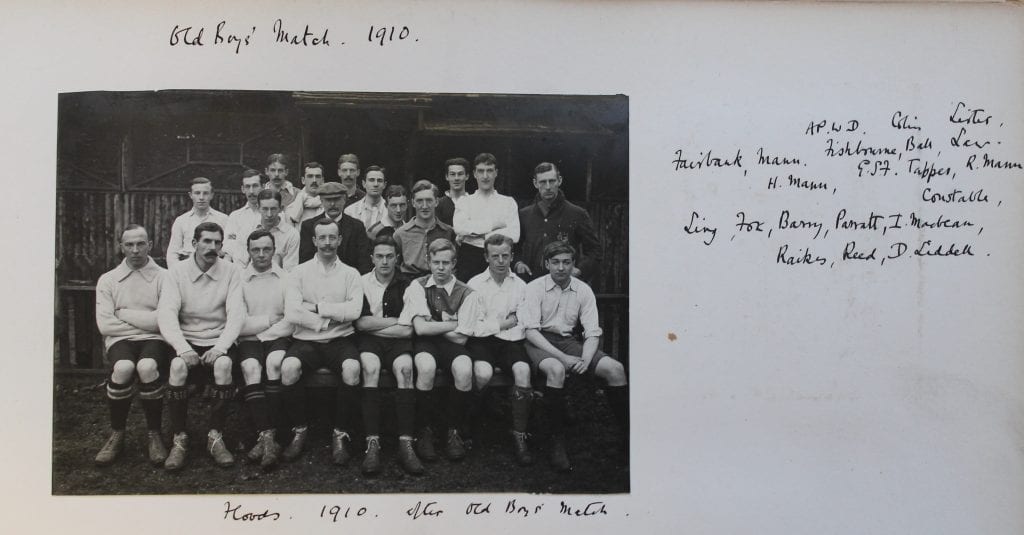 Kristen Mercier, Assistant Archivist