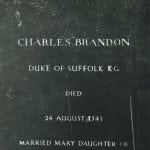 It is easy to fail to notice in the floor of the south quire aisle of St Georges Chapel the ledger stone marking the burial place of Charles Brandon, Duke of  Suffolk, one of the most flamboyant and influential personalities of Henry VIII's reign.
Brandon's father, standard bearer for Henry Tudor, was killed in the Battle of Bosworth Field. Brandon was bought up at Henry VII's court, a great favourite of the king and a childhood friend of the king's second son.  In 1515 Henry VIII sent Brandon to France to escort back to England the king's sister, Mary, whose husband Louis XII had died. Henry wanted the return of the huge sum of money plus the jewels and plate given to Mary as her dowry and Thomas Wolsey had negotiated that all the dowry be delivered to Brandon. Brandon carried out this task but, by the time of his return to England, he had married the young widow, a month after the French king's death.
Once Henry's anger had subsided Brandon's star was again in the ascendant. In 1513 he had become Master of Horse and took part in Henry's successful French campaign. He was present at the meeting of Henry and Francois I of France at the Field of Cloth of Gold in 1520. In 1523 Brandon commanded English forces in an attack on Calais and in 1544 he led another invasion of France. At home, he was High Steward at the wedding of Henry VIII and Anne Boleyn in 1533 and several years later acquired a large amount of land at the Dissolution.
When Brandon died in 1544 he was buried in St George's Chapel at the king's expense. The historian Pote (d. 1715) wrote of Brandon's burial that "nothing remains to distinguish the Grave of this noble Duke but a rude brick pavement and the remainder of his Atchievements affixed to the Pillar above".  In fact, the helm now mounted on the 4th bay of the south quire aisle has been identified as a jousting helm,  not a funerary helm and since between c 1790 and c 1840 many helms were removed from the Chapel, a connection of this helm with Brandon is unlikely.
An 1787 entry in Chapter Acts states:  "Ordered that leave be given to lay a stone above the grave of Charles Brandon Duke of Suffolk, according to His Majesties directions". The resulting ledger was put in place by Henry Emlyn during his repaving of the quire aisles and nave. The inscription on the ledger states that Charles Brandon "married Mary, daughter of Henry VII,  widow of Louis XII of France".  (She was the third of Brandon's 4 wives).  It is recorded in Chapter Acts 1947-8 that the arms of Charles Brandon and his wife Mary Tudor were added to the inscriptions on the ledger stone.
Jill Hume, Archives Volunteer