In December, through the joint efforts of the Capital Development Team and Archives & Chapter Library, the College was awarded a two-year grant totalling £9,000 from the National Manuscripts Conservation Trust towards the preservation of medieval and early modern documents in the Chapel Archives, with priority given to those with interesting wax seals.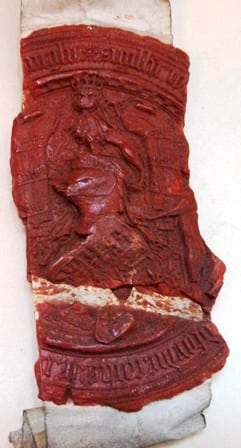 Seals were the prime means of validating documents in the Middle Ages and continue to be affixed to legal records, academic certificates and company documents today. The early ones, with their interesting and often elaborate heraldic, institutional or decorative designs, provide a fascinating insight into the medieval world. However, their composition (generally wax) and their positioning on documents (usually attached to a tag or tongue which hangs below the deed) make them particularly vulnerable, and cumulative layers of dust and dirt often obscure their detail. In many cases, the parchment documents to which they are attached have been folded, making them difficult to consult in their present form, and most have been affected by ingrained dirt. Cleaning and rehousing the documents and their seals will greatly increase their accessibility, reveal lost detail and preserve them for future generations. 
Phase one of the restoration programme will be administered over two years by the Archivist and Chapter Librarian, with major conservation work assigned to Sue Hourigan, Senior Conservator at Berkshire Record Office, and minor cleaning, rehousing and recording tasks undertaken in–house by Archives volunteers. With well over a thousand seal-bearing documents in the College's collections, it is hoped that further funding will be found for future phases of the project.