Warm hands, warm heart
As archivists, part of the work we do for St George's Chapel is answering enquiries about the collections in our care. Recently we received an enquiry about a sixteenth century canon of Windsor named Dr Robert Chaloner. This enquiry led us to uncover new information about the possible provenance of books currently held in the Chapter Library and more movingly, offered a hand-warming story.
In 1620, a Canon of Windsor named Dr Robert Chaloner wrote his last will and testament, which is now held at The National Archives [PROB.11/138/14]. He was a well-to-do man and had no children, so he generously left money to several family members, friends and to the College of St George.
He left 40 shillings to the St George's Chapel Choir, 30 shillings to the Poor Knights (now called Military Knights), 10 shillings to the choristers and 20 shillings were left to be shared with the other inhabitants of the College of St George. However to the Dean and to his fellow Canons, Dr Chaloner granted to each a paire of gloves as a token of my love.
Dr Robert Chaloner was a Canon of Windsor from 1589 until his death in 1621. His admission date as a Canon is noted above his name in an entry in the meeting minute book of the Dean and Canons of Windsor, dated 3 November 1592. The entries reveal that he was often present at the College during his tenure and on several occasions he served as chanter, auditor, and precentor.  They further record that in 1612/3 he was sent with three other canons to the Lord Chamberlain to petition for the delivery the robes and hatchments of Garter Knights to the Chapel.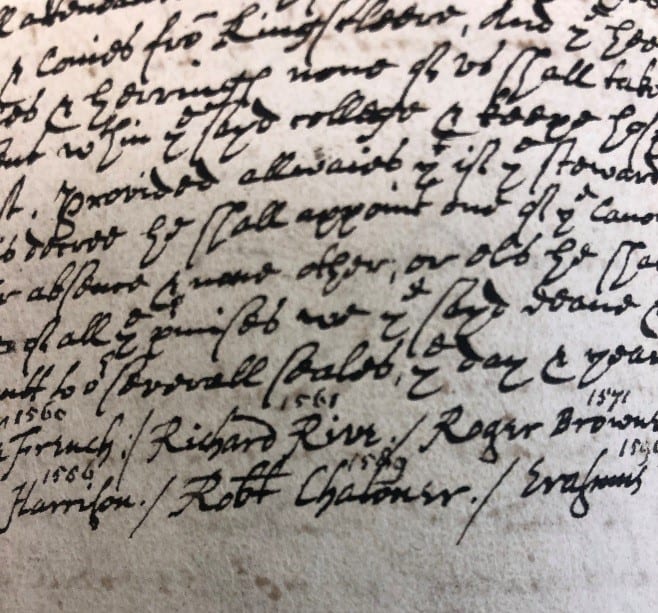 Dr Chaloner's last will and testament also reveals that he made a special note to leave Pellicanes works unto the Library of Windsor Colledge. He had a significant collection of books; his wife Christina (Christine) was the daughter of a bookseller who had bequeathed his library to his son-in-law. Dr Chaloner subsequently left the bulk of his collection to family – his wife and his youngest nephew, with the exception of the works left to the Chapter Library.
The St George's Chapter Library today holds six volumes attributed to Konrad Pellikan, whose Latinised name is 'Conradus Pellicanus'.  These were published in Zürich between 1533 and 1546. All the volumes are distinctive for their binding and several bear parchment manuscript fragments, which are visible in the binding of the book. Unfortunately there are no marks of ownership such as inscriptions, annotations, coats of arms or bookplates in any of the five volumes which indicate a positive connection to Dr Chaloner.
A shelf list from the 17th century Chapter Library is kept in the Archives, This was most likely written after Dr Chaloner's death and notes that one work by Pellicanus could be found in the Library: volume 5 of Commentaria Bibliorum (1546) [SGC M.890]. All five volumes are then noted in a catalogue compiled a century later around 1734 [SGC M.892 volume ii].
Dr Chaloner's grant of books was not unusual for the seventeenth century as the Dean and Canons of Windsor were actively seeking to update and modernise their Library. New members were expected to donate books or money when they joined or left the College of St George.
Though it is still unconfirmed whether Dr Chaloner's bequest was ever observed, by using records from the St George's Chapel Archives we have the opportunity to further explore the provenance of books now held in the Chapter Library.
Kristen Mercier, Assistant Archivist