Between February and May 2012 three new Military Knights of Windsor will be installed.  Each installation takes place during a service in St George's Chapel.
Before the service the new Military Knight and the  Governor of the Military Knights enter the lower chapter room (known to many as the vestry)  where the Dean and Canons of Windsor are gathered.  By ancient custom the new Military Knight first hands over 86 pence after which the Chapter Clerk reads the Warrant of Appointment; the new Military Knight then takes the following oath:
'I do solemnly and sincerely declare that I will duly observe the regulations that concern the government of Military Knights, or such other as shall hereafter be made by Her Majesty and her successors touching the good order of the said Company, so far as I am or shall be concerned in them.'
This done the Dean of Windsor gives the new Military Knight the Warrant of Appointment and a copy of the Military Knights regulations.  During the course of the Service the Governor of the Military Knights and two supporters from among the Military Knights escort the new Knight into the Quire.  The Dean says 'Let the new Military Knight be installed according to the Warrant'.  The new Military Knight is placed into the stall assigned to him before all present say the Lord's Prayer together.  Following some further prayers the Dean returns to his stall and the service continues.
For more information about the Military Knights of Windsor please click here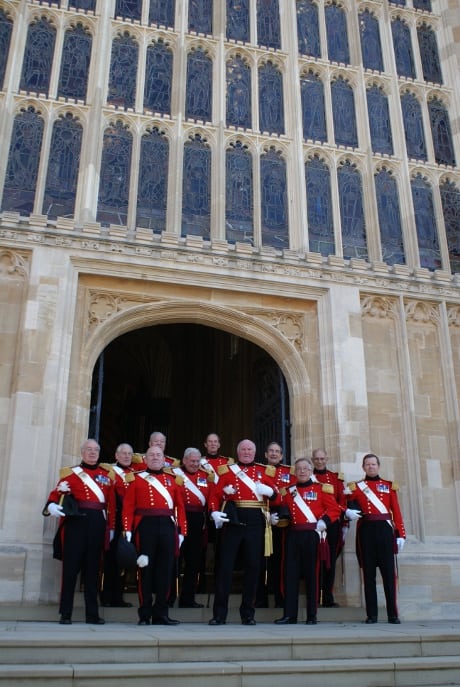 The photographs show the Military Knights of Windsor on the west steps of St George's Chapel.  The close up photograph not only gives some detail of the uniform (which stems from the time of King William IV) but also depicts a small model.  To mark The Queen's Diamond Jubilee, St George's has produced a commemorative chess set.  The Queen and The Duke of Edinburgh are in the robes of the Order of the Garter, the Bishops are the Dean of Windsor,  the pawns are modelled as Choristers and the Knights modelled by Military Knights of Windsor.   For more information about the chess set please click here