MR PHILLIP O'SHEA
News and Activities
The Queen's 95th Birthday To mark the 95th birthday of Her Majesty The Queen, New Zealand Post issued gold and commemorative coins, and a set of four postage stamps featuring portraits during The Queen's life, and a stylized mānuka flower.  Honey derived from mānuka flowers is known for its medicinal or healing properties, so the message is 'may Her Majesty continue to enjoy good health'. The Badge of The Queen's Service Order is based on a stylised mānuka flower.
The late Duke of Edinburgh, KG, ONZ
The death on 9 April 2021 of HRH Prince Philip, Duke of Edinburgh, was received with widespread sadness. New Zealand Post issued a memorial postage stamp on 4 August 2021. The stamp, issued in a miniature sheet, bears a portrait of the Duke in naval uniform and two others of him, as a child and in later years. The first-day cover also features the Badge of The Order of New Zealand (ONZ) to which The Duke had been appointed in 2012.
The New Zealand State Memorial Service for The Duke was held at the Wellington Cathedral of St Paul on 21 April 2021. Towards the end of the service, as New Zealand Herald of Arms Extraordinary, I proclaimed The Duke's styles and titles in relation to New Zealand:
We commemorate the late Prince Philip, Duke of Edinburgh, Member of the Order of New Zealand, Companion of The Queen's Service Order, Admiral of the Fleet of the Royal New Zealand Navy, Field Marshal in the New Zealand Army, Marshal of the Royal New Zealand Air Force, beloved husband of Her Majesty Elizabeth the Second, by the Grace of God, Queen of New Zealand, and her other Realms and Territories, Head of the Commonwealth, Defender of the Faith, whom may God preserve and bless with long life, health and honour and all worldly happiness.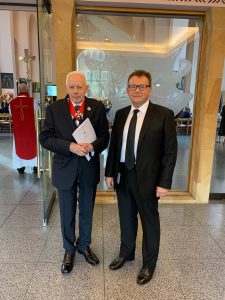 Honours
In The Queen's Birthday Honours, announced on 12 June 2021, it was a delight to see the appointments of Thomas Woodcock, the retiring Garter Principal King of Arms, as a KCVO, and the long-standing editor of the Annual Review, Bridget Wright, as a CVO.
Secretariat
It is appreciated that the restrictions placed on members during the Covid Pandemic lockdowns has seen a change in activities and personal lifestyles. Nevertheless, the Honorary Secretary, Linda Aitken, and Annette Parsons, kept in contact and continued to help and support to me and New Zealand Friends in general.  I trust all Members keep safe during the coming year.
Phillip O'Shea, CNZM, CVO, New Zealand Herald of Arms
SaveSave