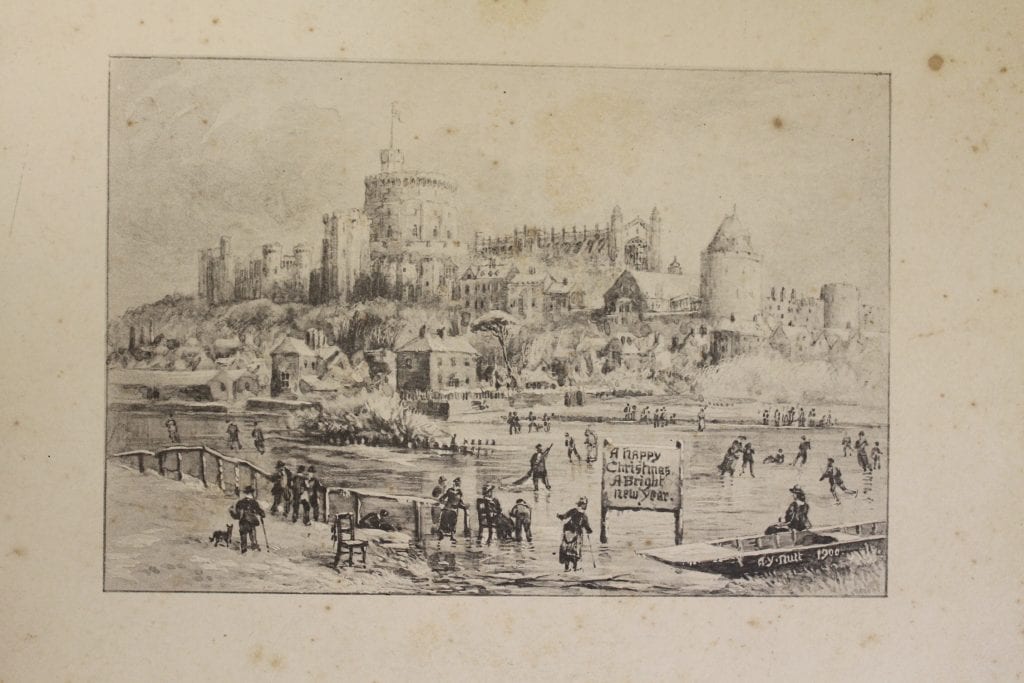 This festive scene was drawn by Alfred Young Nutt in 1900 for a Christmas card. Nutt was Chapter Surveyor, with responsibility for the buildings in the Lower Ward of Windsor Castle, for the Dean and Canons of Windsor from 1873 to 1912. From 1901 he was also Clerk of Works of Windsor Castle.
Nutt regularly produced hand-drawn Christmas cards featuring picturesque scenes of Windsor and the Castle between 1891 and 1910 to send to his friends and colleagues; many of them survive in collections of personal papers now in St George's Chapel Archives. This Christmas card can be found in the papers of one of the employees of the Office of Works, A. F. Collins. The records left by both Nutt and Collins form important evidence of the history of building works around St George's Chapel and its domestic and administrative buildings, as well as telling us about community life in their day.
Visible in the background of the card's sketch are familiar buildings of Windsor Castle, including the Curfew Tower, St George's Chapel and the Round Tower.  Nutt also featured ice-skaters and revellers making their way across the frozen River Thames, a more familiar site at the turn of the century. Though the last great freeze of the river took place in 1963, the Thames froze frequently in Windsor during the nineteenth century.
As a skilled artist Nutt often employed his talents in his daily work, producing numerous plans of work in the Chapel, such as the original location of the Archives in the Aerary, and the many homes of members of the College of St George, such as Canons' Cloister. He also captured some of the extensive changes made to St George's Chapel during the late nineteenth century, including the creation of a new entrance to the royal vault built for George III, which Nutt depicted as seen in this previous Image of the Month post.
His successors as Chapter Surveyors would also produce plans and sketches of the Chapel and buildings of the College. However by the early twentieth century, A.F. Collins and the Office of Works team were further able to document the buildings through photography. A collection of Collins' photographs are held in the Archives, many of which were taken before and during the great restoration project in St George's Chapel in the 1920s.
Following his death on 25 July 1924, Alfred Young Nutt was buried in Windsor cemetery.  In 1936, a memorial to him was placed in the north quire aisle of St George's Chapel.  A blue plaque can also be seen at his former home at 63 King's Road, Windsor. To learn more about his history see this 2010 blog post.