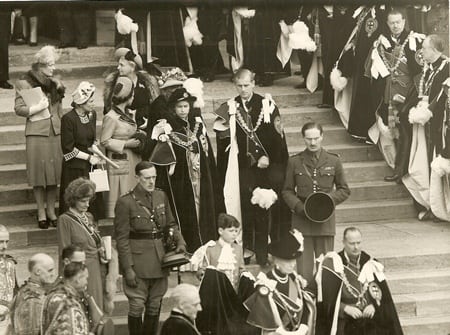 In 1948, as one of several events to mark the six-hundredth anniversary of the foundation of the Most Honourable Order of the Garter and of its spiritual arm, the College of St George, a service of installation was held at St George's Chapel, Windsor Castle, on St George's Day, 23 April. It was at this service that Princess Elizabeth and her husband, Prince Philip, Duke of Edinburgh, were installed as Lady and Knight Companion of the Order of the Garter, along with thirteen other new Garter Knights. The Royal couple are shown here on the West Steps of St George's after the service. So commenced the formal association of Her Majesty the Queen with the chivalric order founded by her distant ancestor Edward III; an association that has lasted over sixty years.
The St George's Day celebrations in 1948 included an investiture ceremony in the Throne Room of Windsor Castle, at which Princess Elizabeth, Prince Philip and the other Knights Elect were invested with the Garter riband and presented with their Garter robes and collar.  This was followed by a luncheon in St George's Hall, hosted by King George VI and Queen Elizabeth in the presence of the Dowager Queen Mary, a robed procession down Castle Hill to the West Door of St George's Chapel, and a service of installation and thanksgiving in the Chapel during which the new Companions were allocated their Garter stalls in the Quire.  After the final blessing, the procession of Military Knights, Heralds, Knights Companions and Garter Officers left the Chapel by the West Door, the trumpets sounding a fanfare as the King stepped from the Quire into the Nave. At the foot of the West Steps, motorcars were waiting to collect the royal family and other Knights and returned through cheering crowds to the State Apartments. The Times special correspondent waxed lyrical on the occasion: 'If "ceremonies of bravery" performed on earth have power to delight souls in bliss, St George might have been proud of his merry England today.'
The Garter ceremonies, revived and augmented by King George VI for the sexcentenary, were a resounding success and the celebration of Garter Day has continued in this pattern ever since. Garter services have not been held every year since 1948 – they were not arranged in 1949, 1952 and 1953, and the 1955 ceremony had to be cancelled owing to a rail strike – and no longer take place on St George's Day. However, the annual procession and service in St George's Chapel, now generally held in June, continue to draw the crowds, as in 1948, to share in the religious ceremony and pageantry of this historic royal occasion: a truly British institution with the monarchy at its heart.
Clare Rider, Archivist and Chapter Librarian