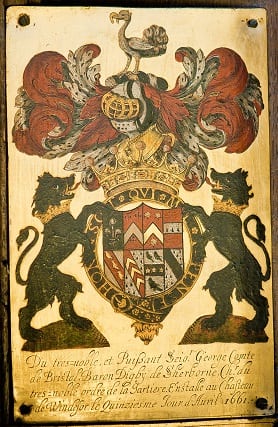 An abundance of talent is not always allied with wisdom and sound common sense. This was certainly true of George Digby (1612-77), 2nd Earl of Bristol and Garter Knight, who has been described by the historian Ronald Hutton as one of English history's most dangerous men.  He possessed the attributes to succeed as a politician, an administrator, a courtier, a soldier and a scholar, but was to fail in most of the enterprises which he undertook. All this against a background of political and social upheaval in the mid 17th century.
George Digby was born in Madrid where his father, John Digby, 1st earl of Bristol (1580-1653) was ambassador to the Spanish court.  Madrid was home for his first eleven years until his father was recalled to England in disgrace and sent to the Tower. Aged just twelve, he presented a petition to the Commons on his father's behalf, impressed the members with his eloquence, and gained his father's release.  Later, he went up to Magdalen College, Oxford, where he enthused over astrology and theology and impressed contemporaries with his brilliance, not to mention his cherubic good looks. It was so far, so good, but there was a hint of the recklessness to come when in 1634 he literally crossed swords with a court favourite who had slighted him. Despite winning his duel, he spent time in the Fleet prison as the action took place within the precincts of Whitehall and was technically treasonable.
In 1635 or 1636, he married the earl of Bedford's second daughter, Lady Anne. At this time, he felt alienated from Charles I's government, being especially unhappy with the king's personal rule.  Things changed in 1641 when the king ennobled him as Baron Digby of Sherborne, and he then became one of the king's staunchest defenders in the Lords.  However he proved to be a dubious adviser to the king, persuading him to actions which lost him control of London and the Commons. The king's botched attempt to arrest the five members in January 1642 was probably down to Digby's bad advice.
At the battle of Edgehill in October 1642 he fought bravely and at the attempted storming of Lichfield in April 1643,was wounded in the thigh.  At first, the king would not give him employment as an adviser in time of war, but in September 1643, he was made a secretary of state and a privy councillor.  This only served to antagonise parliament and suggested a hardening of Charles's attitude to his enemies.
For a time, he was a close ally of Prince Rupert, but the two men were to fall out with damaging consequences for the royalist cause.  It seems the prince turned against him as he perceived Digby to be untrustworthy and perhaps two-faced. It was Digby who advised Charles to commit his army to battle at Naseby in June 1645, against Rupert's better advice. The royalists were routed and Rupert was now Digby's implacable enemy, especially after the king dismissed him from his command in September. Further disaster followed in October, when Digby was commissioned as lieutenant-general in England north of the Trent, and led an expeditionary force to defeat at Sherburn in Yorkshire.  He then fled to Ireland to escape death or capture.
Having failed to organise a royalist counter-attack from Ireland, Digby now moved to France, where he entered the royal army as a volunteer in 1648. Unlike his previous ventures, this proved to be a success as by 1651 he was commander of the French forces in Normandy.  Also, he regained the favour of the exiled Charles II who awarded him the Garter in 1653 (the year he succeeded his father as earl of Bristol), though he was not installed until 1661.  Until 1656, he remained in French service, but having made an enemy of Cardinal Mazarin, he fled the country.  His next domicile was in the Southern Netherlands, where Charles II had settled as an ally of Spain. Again, things went well for a time.  Charles restored him to his old posts of secretary of state and privy councillor, and he impressed the Spanish by talking a French garrison into defecting. Then in 1659, he converted to Roman Catholicism, which led to dismissal from his offices, and the end of future prospects of advancement in the king's service.  He also upset the Spanish through an indiscretion which led to the leaking of military secrets to the French.
At the Restoration in 1660, he regained his lands and titles, but was barred from office because of his religion and his erratic track record.  He was now something of an ornament at court, noted for reckless gambling and extravagant entertainment.  Briefly in 1663, his fortunes seemed to revive, but his involvement in a risky agreement to manage the Commons in the king's interest provoked fury and he was abandoned by all his friends. He then made things worse by accusing the earl of Clarendon of high treason on grounds which were proved to be baseless.   Charles II was furious and ordered his arrest as a troublemaker, though he managed to flee into hiding, where he remained until 1667, when he was forgiven by the king.  By this time Clarendon had fallen out with Charles so Digby was able to help the king to draw up a fresh impeachment of the earl.
George Digby, earl of Bristol died at his Chelsea home in March 1677 and was buried in the Russell family chapel at Chenies in Buckinghamshire.  One reason for his failures was an inability to keep friends. Another was his tendency to seek risky solutions to political and military problems.  Above all, he was self-destructive, with a tendency to destroy those he was closely associated with.  Yet despite all his failings, he at least managed to survive through the turbulent times he was thrust into.
Simon Harrison, Archives volunteer