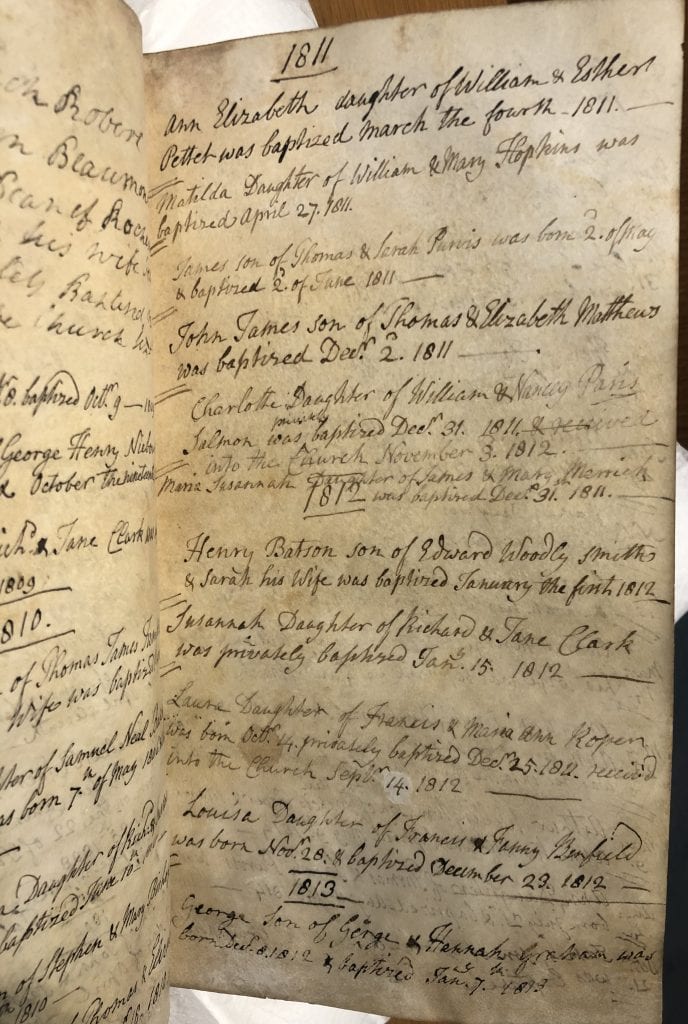 New Year's Day 1812 in St George's Chapel began with the baptism of Henry Batson, son of Edward Woodly [Woodley] Smith and Sarah, his wife. The event is recorded in the earliest surviving register book of baptisms, marriages and burials kept by the Chapel Archives [SGC R.1].
Though Henry Batson was the first baptism of 1812, New Year's Eve of 1811 appears to have been a busy day. On 31 December, there were two other baptisms: Charlotte Salmon, daughter of William and Nancey Paris, and Maria Susannah Merrick, daughter of James and Mary. The entry for Maria Susannah is crammed just above the number '1812', suggesting that the register's scribe may have thought their work was done for the year.
The baptism register is mainly of domestic interest. It predominantly records children born within the walls of Windsor Castle, whose parents were members of St George's Chapel, the Royal Household and even the royal family.
Two of the entries belong to the children of lay clerks, the adult male members of the Chapel's choir. The families of the lay clerks were expected to reside within the Castle walls and there are numerous entries of baptisms, marriages and burials for several families.
Edward Woodley Smith, was a Lay Clerk between 1796 and 1849. Henry Batson was the first of the six Woodley Smith children, five boys and one girl, to be baptised in St George's Chapel.
Charlotte Salmon's father, William, was also a lay clerk. He had first joined the choir as a chorister in 1796 and then was appointed a lay clerk in 1806. However the Salmon family's association with St George's Chapel began with Charlotte's grandfather, James Salmon, who became a lay clerk in 1780. Combined James and William Salmon served as members of the choir for 99 years!
Maria Susannah was the first of the three children born to James and Mary Merrick who were baptised in the Chapel. The Merrick family were not residents of the Chapel community but the family regularly appears in the registers, so they may have been in service in the Royal Household.
Events in the Chapel were dutifully recorded in the register, usually by the minor canon appointed as the dean's curate or vicar, though entries were also written and signed by other members of the College of St George.
The registers recording baptisms, marriages and burials begin in the seventeenth century. The earliest entries belong to five members of the Warren family, whose father John Warren was also a lay clerk.
Click here for a published and digitised edition of the registers.
Kristen Mercier, Assistant Archivist