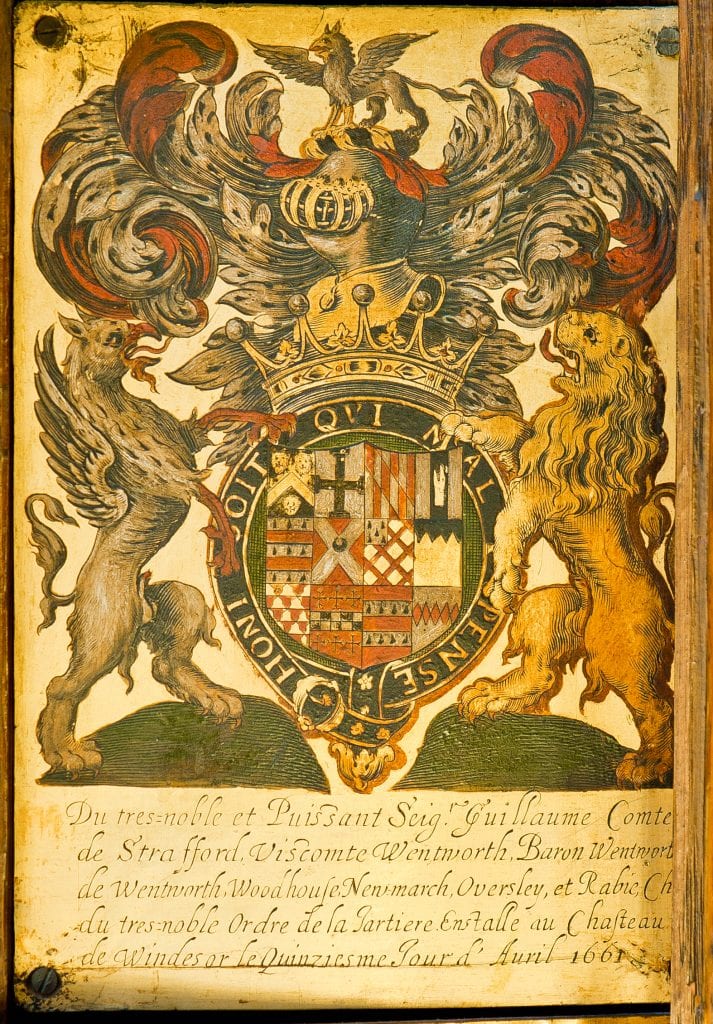 The featured image of the month is the stall plate of William Wentworth 2nd Earl of Strafford (8 June 1626-16 October 1695). He was appointed to the Order of the Garter in 1661 by King Charles II. William's father – Thomas Wentworth 1st Earl of Strafford (13 April 1593-12 May 1641) – had also been a Knight of the Garter, yet he has no stall plate in St George's Chapel.
Thomas, Earl of Strafford was an English statesman and often at odds with the King early in his career. However, in 1628 Charles I wished to strengthen his position in the north of England and offered Strafford the barony of Raby and Wentworth and a seat on the Privy Council. In 1632 he was appointed Lord Deputy of Ireland. Through an effective though often harsh rule, he curtailed pirating off its coasts and increased customs revenues for the Crown.
In September of 1639 Strafford was recalled from Ireland to be one of Charles I's chief advisors and was appointed first Earl of Strafford and Lord Lieutenant of Ireland. Though he was nominated to the Order of the Garter on 12 September 1640, he never attended a Garter Day feast and was never installed in St George's Chapel.
In 1639 uprisings took place across Scotland and Charles I was forced to agree to pay a settlement. Strafford recommended that the King call Parliament to agree taxes in order to raise the funds, as was customary, but he was ignorant of the deep resentment held by Members of Parliament for the King. For eleven years Charles I had avoided Parliament and raised his money by other means. The 'Short Parliament' he now called was unsuccessful and quickly dissolved before its members could raise issues or move to the check the monarch's power. Strafford returned to Ireland to raise funds and an army to combat the Scots.
Disastrously Strafford fell ill in late 1640 and his political enemies persuaded Charles I to call another Parliament on 3 November 1640.  The 'Long Parliament' considered Strafford a threat and one of its first acts was to impeach him for 'high misdemeanours' regarding his conduct in Ireland. When he arrived in London on 9 November 1640 he was imprisoned in the Tower of London.
Strafford's trial began 22 March 1641. He was accused of subverting fundamental laws of the kingdom. However he mounted a strong defence and the House of Commons sought a Bill of Attainder – condemnation to death by special act of Parliament. Charles I had promised Strafford protection from Parliament but as public anger grew, the Earl wrote to release him from his vow. The King reluctantly signed his friend's death warrant. Strafford was executed on 12 May 1641.
Coverage of Strafford's trial endures in the St George's Chapter Library, including contemporary leaflets published during and after the trial. Thomas Rushworth published a summary of his observations of the trial in 1680 [SGC RBK W.95]. Rushworth is considered a key source for the events leading up to and during the English Civil Wars (1642-1651) but he noticeably favoured Parliament. John Nalson (c.1638-1686) published two volumes in 1682 and 1683 under the special patronage of Charles II to serve as an antidote to Rushworth's accounts. He was given access to various repositories of state papers in England and Ireland [SGC RBK N.5].
After his father's execution in 1641 William Wentworth fled for Ireland. He was eventually allowed to return in 1652 if he took an Oath of Abjuration – a solemn repudiation of his father's actions. Following King Charles II's restoration to the throne in England, Parliament reversed the charges against Thomas Wentworth and granted William all of his titles and properties. The second Earl of Strafford had successful political career and was an active member of the Order of the Garter. He lived a far more quiet life than his father.
Kristen Mercier, Assistant Archivist