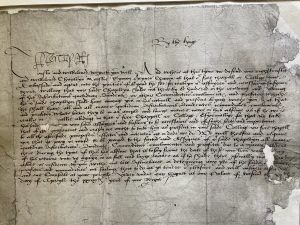 Newly on display in the Chapel Archives is a sixteenth-century letter personally signed by King Henry VIII which confers a special privilege to one of the canons of St George's Chapel. Canon Simon Haynes was a successful clergyman and a fellow of Queens' College, Cambridge; he was a zealous religious reformer. He played a key roll in securing the University of Cambridge's endorsement for Henry VIII's divorce from Katherine of Aragon and this undoubtedly advanced him in the king's favour.
Haynes was appointed a Canon of Windsor in December 1535. That same year had seen him secure positions as the official anti-papal preacher in Cambridge and as an ambassador to France. Subsequent years would see him sent on further special embassies, including to the King of Spain. He was appointed dean of Exeter, rector of Fulham and of Newton Ferrers, canon of Westminster Abbey and master of St Anthony's Hospital, London.
With so many religious and secular duties to perform, it seems that Canon Haynes struggled to attend Chapel at St George's. In his lifetime, the College statutes of 1352 still governed the canons' pay. These stipulated that each canon received a small stipend (a guaranteed annual sum), which was to be supplemented with quotidian, or "daily", payments received for every day that they were present in Chapel. If they were diligent in their attendance then the two forms of payment could add up to a good annual income. Detailed attendance registers were maintained by the College so that they could be certain how much money was owed to whom.
In this letter, addressed to the "trusty and wellbeloved" dean and canons, King Henry VIII issues the remarkable order that Canon Haynes should be paid his quotidian while he was absent "as if he were really and actually abiding in that our free Chapel or College." Haynes is described as the king's ambassador or agent beyond the sea representing business that is so necessary and of such importance that the king does not wish it to prevent him from receiving the payment he should have received in Windsor. The king instructs the dean and canons that Haynes' quotidian should be paid from the date of the letter – 6 April 1538 – until Haynes's returns.
It seems likely that this would have been unpopular with Haynes's colleagues, who still had to turn up in order to get their money, but they were strongly dissuaded from challenging the decision. The letter is headed "By the kynge", and it bears the Royal sign-manual, or signature, of Henry VIII: "Henry Rex". There is no doubt by whose authority this is ordered. For further encouragement, one of the final clauses warns that, if the dean and canons do not carry out the king's will, "you will answer before us and our counsel at your peril."
Haynes remained a canon of Windsor until his death in 1552. His reforming tendencies caused some difficulties while Henry VIII was still on the throne; in 1543 he was imprisoned and investigated for heresies, though never charged. His career flourished in the reign of King Edward VI and he was involved in the disposal of the Chapel's more Catholic ornaments and possessions, personally taking responsibility for burning vestments. In 1548 the Clergy Marriage Act removed the prohibition on marriage for priests in the Church of England and in 1549 Haynes married Joan Wallron.
Henry VIII's letter and a selection of the Archives' other treasures can be viewed by appointment in the exhibition in the Vicars' Hall Undercroft. We welcome tour groups who would like to explore the Archives and Chapter Library. For booking details, please see our website https://www.stgeorges-windsor.org/archives/group-visits/.
Kate McQuillian, Archivist and Chapter Librarian