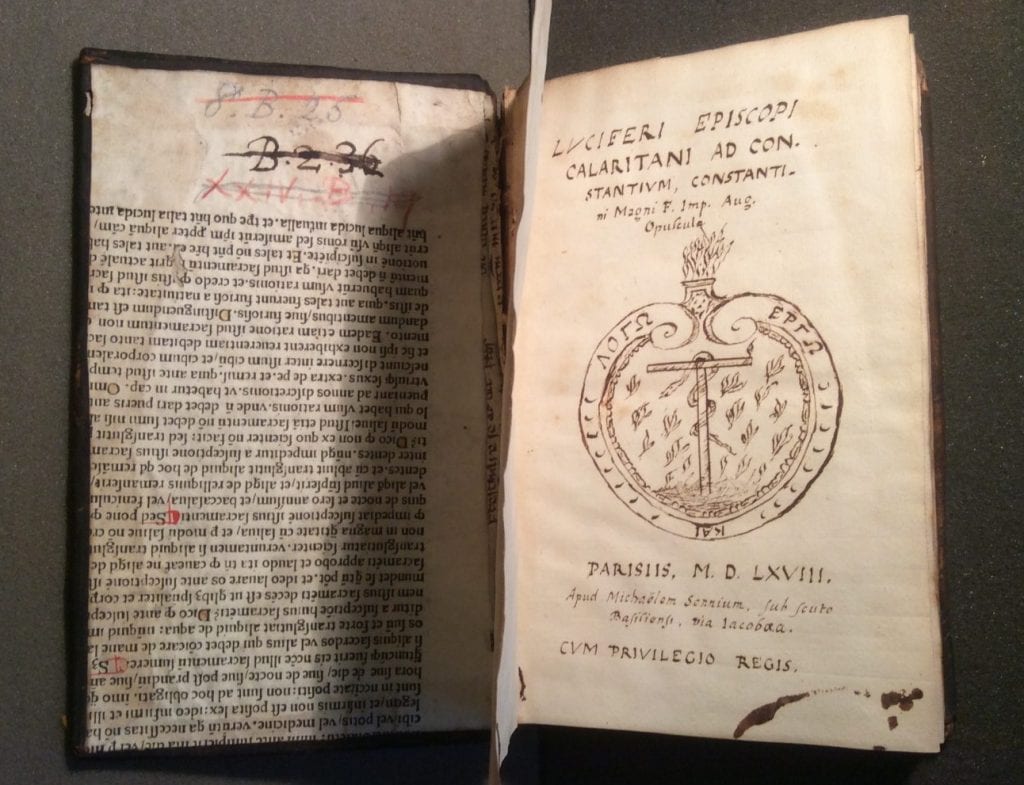 One of the curiosities of the St George's Chapter Library is a volume of Luciferi…Ad Constantium (Paris, 1568), known by the reference number SGC RBK L.333. It is missing its original printed title page, but we find in its place a highly accurate hand drawn replica of the missing title page.
Missing pages are not a surprising occurrence in manuscripts or rare books. Printed books are often missing their title pages, whether by accidental loss or deliberate removal. Collectors have long torn apart books for their titles pages or illuminated leaves, while contemporary printers and sellers are known to have used them as an advertisement for books. Pages from manuscripts and print books were often recycled in the binding process; one need only look at the binding of SGC RBK L.333 for evidence of such practices. However printed title pages were also liable to loss because they were commonly one of the first pages in a bundle of unbound sheets. In the sixteenth century, books left print shops and were frequently purchased still unbound.
The earliest print books did not have title pages. However by the late fifteenth century, printers began to include a blank page with a title to identify and protect the bundles of their printed works. By the sixteenth century they had developed elaborate title pages with decoration and additional information. Some publishers would still include a simple title page to protect the more elaborate title pages because the first and last pages of any bundle were vulnerable to damage and loss.
By the sixteenth century, elaborate title pages became commonplace in print books. They shared similar features to the modern title page: title, author and/or editor, and perhaps also the name of publisher. In the early modern period, several other details were added: the printer's shop (in France they even included its exact location), the city and year of its printing. Decorative features became common, including vignettes, borders, ornaments, a printer's mark or device, or an illustration of something relating to the book.
Principally, the title page served to inform the reader of the book they were purchasing. We can only suppose that the creator of the hand drawn title page in SGC RBK L.333 felt that this information should be readily available for a buyer or reader.
The manuscript title page of SGC RBK L.333 informs us that it is the works of Lucifer, Bishop of Cagliari against Emperor Constantius II. It was published in Paris in 1568 by the printer Michaelem Sonnium, under the shield of Basel on Jacob Street (Apud Michaëlem Sonnium, sub scuto Basiliensi, via Iacobaea). We also learn that it was printed CUM PRIVILEGIO REGIS – with privilege of the king. This guaranteed publishers and engravers the protection of the work against plagiarism and forgery. Though comparable to modern copyright, in the sixteenth century, this protection lasted usually no more than a couple of decades.
The title pages also contains a vignette – a small ornamental or decorative design used on title pages or in between chapters. It features a snake curling around a cross, with flames falling from the sky.  From the decoration it is possible to ascertain that this was not a trace drawing, as it is not a perfect copy. Rather, it was likely done by someone who had another copy of the title page for reference.
Beyond the title page are the works of Lucifer, Bishop of Cagliari, edited by the sixteenth century French Catholic Bishop of Meaux, Jean du Tillet.
Lucifer of Cagliari (d.370/371 AD) was a bishop of Sardinia; a controversial figure during his lifetime and now a saint, though this is debated by many. He is best known for his opposition to Arianism, a Christian doctrine which rejected the divinity of Christ. In his writings he publically accused the Roman Emperor Constantius II (250-306 AD) of being the Antichrist because he defended Arianism and its practice in the Empire. Lucifer of Cagliari refused to make peace with the Arians or their sympathisers.
Lucifer of Cagliari's works were once again popularised following the Protestant Reformation. Jean du Tillet, the editor and also a Catholic bishop, explains in the preface that their publication is particularly appropriate in such a turbulent time. Du Tillet and his Catholic contemporaries feared the rule of a Protestant 'heretical' ruler.  However as Lucifer of Cagliari's rhetoric against the Emperor Constantius II was often violent, du Tillet edited the works to suit his own religious and political views. For example, removing a theory of regicide based on biblical sources in the 1568 publication.
Kristen Mercier, Assistant Archivist