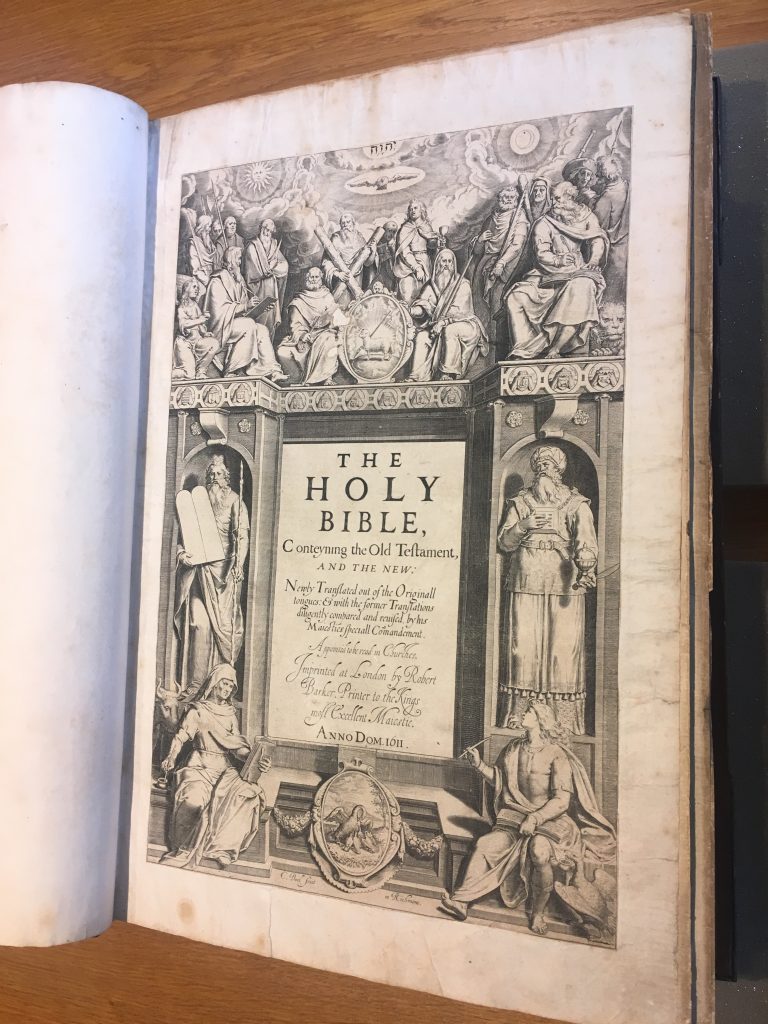 On Thursday 5 March 2020 we will join in the worldwide celebration of books and reading for World Book Day. A number of events will be held around Windsor Castle, including a display of special Bibles from St George's Chapel Library, which you will be able to find in the nave of the Chapel throughout the day.
Featuring in that display will be this volume of The Holy Bible… Newly translated out of the originall tongues… [SGC RBK B.219]. Printed in 1613, it is a second edition of what became known as the King James Bible, or Authorised Version of the Bible: one of the early translations into English to be approved by the Church and the King. Some earlier efforts to translate the Bible into English had been banned, due to their associations with rebellious reformers, and some of the translators had suffered severe penalties for their efforts. This translation was in fact commissioned by King James I and became widely accepted and used throughout the country.[1]
It is a physically impressive volume, 43cm x 29 cm (17" x 11½") on the cover and 10cm (4") deep. It has a beautifully designed binding in red and gold showing the St George cross surrounded by ornate brass decorations which make the volume very heavy!
However, this particular copy is masquerading as something of even greater significance. Inside the cover, the frontispiece, which identifies the book's origin and content, is that of a first edition King James Bible, printed in 1611. Changes made between the 1611 and 1613 editions prove for certain that this is the latter, but a previous owner has taken a frontispiece from a first edition volume and pasted it over the correct, second edition frontispiece that was printed for this volume. Looking closely at the edges, it is possible to see that it is not part of the page but sits on top of it.
Disguising the book's real identity was a strange action, perhaps carried out by someone who wanted to claim ownership of a first edition, or who wanted to sell this as a first edition. We do not know how or when this volume came to be part of the Chapter Library at St George's Chapel and there is no genuine first edition of the King James Bible held here.
Work on the King James Bible began in 1604, lasting seven years until it was first printed in 1611. Forty-seven leading biblical scholars worked on the translation, including one Dean of Windsor: Giles Thomson. The son of a grocer, educated at Merchant Taylors' School and then Magdalen College, Oxford, Thompson was appointed to a team of eight men with responsibility for translating the four Gospels, the Acts of the Apostles and the book of Revelation from Greek to English. The work overlapped almost exactly with his time at Windsor, which was 1603-1612.
As well as having a St George's connection among the translators, the Bible was printed by a local family. The Barkers of Datchet were appointed printers first to Queen Elizabeth I and then to King James I and held a patent to print Bibles.
In addition to this second edition King James Version, printed by Robert Barker, St George's Chapel Library is home to a distinctive 'Treacle Bible'. This is a 1585 edition of the Great Bible published by Robert's father Christopher Barker in which the translation, "is there not tryacle at Gilead" appeared in Jeremiah 8:22, instead of the more common "is there no balm at Gilead".
Kate McQuillian, Archivist & Chapter Librarian
[1] Earlier English translations, the Great Bible (1539) and the Bishops' Bible (1568), had also been approved by the monarch and the Church, but neither became as widely used as the King James Version.