600th anniversary of the birth of King Henry VI
December 2021 marks the 600th anniversary of the birth of King Henry VI in Windsor Castle. The son of King Henry V he came to the throne aged just 9 months in 1422.  In 1461 he was temporarily deposed before regaining the throne for a year from 1470 until his death in 1471; the throne was held in the intervening period by King Edward IV. They are two of the ten monarchs buried in St George's Chapel.
Last May marked the 550th anniversary of King Henry's death.  Originally buried at Chertsey his body was brought to St George's Chapel in 1484 and buried in the South Quire Aisle.  The Victorian stained glass in that aisle depicts Henry VI and his Queen, Margaret of Anjou.  Either side of the Royal couple stand St George and St Margaret. In the lower left section of the window is an heraldic antelope  bearing a staff from which flies a banner bearing the arms of England and France. On a scroll about the staff are the words 'Te Deum Laudamus' (We praise You, God).  In the lower right hand section is an Eagle holding a staff  from which flies a banner with the arms of Anjou. Around the staff are the words 'Humble et loiall'.   The inspiration for the depiction of the King is thought to have been taken from a tapestry in St Mary's Hall in Coventry. The window was installed in 1844 to a design by Thomas Willement; his initials are just visible in the lower right hand corner.
From Thursday 2 December there will be a small display of items from the Archives of St George's Chapel about King Henry VI, in particular how his tomb came to be a site of veneration and pilgrimage.  Normal opening times are Mondays, Thursdays, Fridays and Saturdays 10am to 4pm (Windsor Castle admission charges apply). The artefacts will include a fifteenth-century grant with the King's seal attached and the expenses for moving his body to Windsor from Chertsey.
This general pardon to the Warden and Canons of Windsor from King Henry VI, bearing his Great Seal and dated 7 November 1424, will not be in the exhibition because of its large scale but the purple silk and green seal make it rather striking so it is added here albeit only in photographic form.
At Evensong on Tuesday 7 December (doors open 5pm; all seated by 5.10pm please) lilies and roses will be laid on King Henry's tomb by two Scholars from Eton College.  Lilies represent Eton College and roses represent another of his foundations, King's College, Cambridge.  The service concludes with the prayer of King Henry VI being sung by St George's Chapel Choir.  The photo below shows two Scholars from Eton College last May.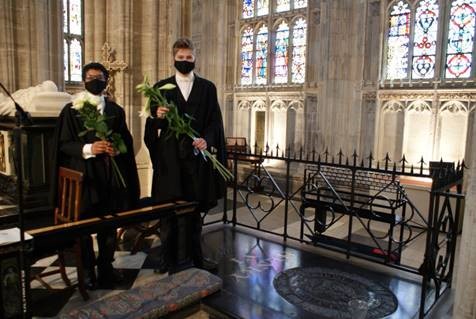 Lilies and roses, as part of the Coats of Arms of Eton College and King's College, are depicted in the stained glass window just seen in the background to this photo. They form part of the light projections being cast onto Garter Tower as part of Windsor's Christmas lights (20 November 2021 to 5 January 2022).
You can find out more about King Henry VI and St George's Chapel by reading these past blogs from the Chapel Archives.
https://www.stgeorges-windsor.org/richard-iii-and-st-georges-chapel/
https://www.stgeorges-windsor.org/the-pilgrims-corner/
https://www.stgeorges-windsor.org/lilies-and-roses-for-a-king/