Images projected onto Garter Tower as part of the town of Windsor's Christmas decorations are taken, in the main, from stained glass and architectural details in St George's Chapel together with images from books and manuscripts in the Chapel's library and archives. There are also pictures drawn by children from local schools.
Over the course of the seven weeks when Garter Tower is illuminated (21 November 2020 to 5 January 2021) there will be a series of posts on the Chapel's Facebook page giving a little more information about some of the images.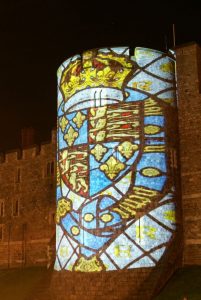 The two images shown here are the Gilebertus doors at the east end of the Chapel and the coat of arms of King Edward IV as depicted in stained glass in the south quire aisle of St George's Chapel. The Gilebertus doors were the main west doors to a previous chapel on which site now stands the Albert Memorial Chapel. The red and gold doors date from the 13th century and are decorated with wrought and stamped iron. The name Gilebertus appears three times on the door and could possibly refer to the craftsman who made them. The Coat of Arms is from some Victorian stained glass but refers to King Edward IV who, in the year 1475, commanded that the current Chapel be built.
Music Manuscript and Stained Glass
Chapel Roof Bosses
St George and Henry VI
Gilebertus Doors
Organ Pipes