Visitors to St George's will have seen some scaffolding erected on the south front and inside the Chapel. The internal scaffolding rests on both the Quire floor and that of the South Quire Aisle with high level scaffolding poles joining the two towers together.  The scaffolding has been designed in such a way that it remains easy to walk through the Quire and the Aisle though daily Services have been moved into the Nave.
The combined set of scaffolding means that one bay of the clerestory windows can be safely removed for conservation and repair by specialist conservators.  The lead surrounding the 19th century heraldic glass has weakened to such an extent that some glass has cracked while other complete sections have bowed.
While the windows are absent the spaces will be temporarily filled with photographic representations of the actual windows.  The 19th century coats of arms depicted in the window that will be removed are those of (top to bottom, left to right):
Duke of Sutherland
Marquess of Westminster
The Prince of Wales (later King Edward VII)
King of Prussia.
King of Saxony
Duke of Beaufort
Duke of Buckingham
Marquess of Salisbury.
Duke of Cleveland
King of France
Duke of Saxe-Coburg Gotha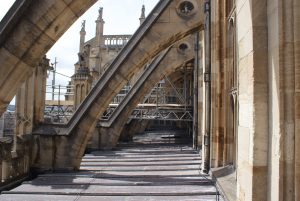 Earl de Grey.
See the painstaking work involved in the workshop to clean and repair the panels, in the video clips below:
The external scaffolding also allows access to the lead roof of the South Quire Aisle which needs some repairs and to some areas of stone which has spalled.
It is likely that the scaffolding will be in place until October 2022.