St George's Chapel grotesque programme has been shortlisted for the King of Prussia Medal – an award for church architecture organised by the National Church Trust.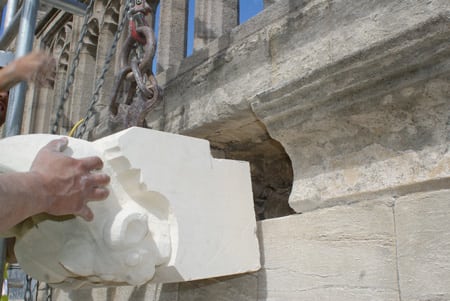 The grotesque sculptures at St George's Chapel, created by students at the City & Guilds of London Art School, are contemporary imaginative stone carvings.
The programme has developed the imaginative and practical expertise of a new generation of craftspeople, ensuring the survival of traditional and exemplary techniques and skills. St George's Chapel was constructed between 1475 and 1528 but, rather than being simply preserved, as a working building continues to evolve.  Many of the Chapel's grotesque sculptures had suffered from weathering due to their exposed positions. No medieval originals survived, and many Victorian replicas had themselves become badly damaged. In commissioning new sculptures the Dean and Canons of Windsor initiated a programme that, rather than attempt to create copies of what are themselves copies, continues the chapel's 650-year old decorative tradition through a programme of contemporary sculpture.
The shortlist can be seen here:
 http://www.nationalchurchestrust.org/king-prussia-gold-medal-2015-shorlisted-entries