At this time in 2021 it is no surprise that we might look back on past Services.
In recent years, 2016, 2018 and 2019, St George's Chapel was the venue for the Royal Maundy Service.  This year sadly there is no Royal Maundy service at any location but 95 women and 95 men, chosen as Maundy recipients, will still receive specially minted Maundy coinage.  The photograph shows coins from 2019 – silver 1, 2, 3 and 4 pence.
In March, it was announced from Buckingham Palace that there would be no Garter Day service this year.  Knights of the Garter are included in prayers in St George's Chapel on a daily basis and we look forward to welcoming them back when possible.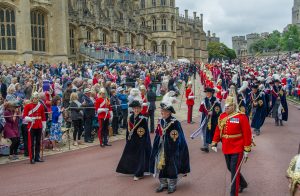 While Services in St George's Chapel will take place on Maundy Thursday, Good Friday and Easter Sunday they are, this year, for Castle residents only.  The photograph shows the wooden crucifix that normally resides in the Rutland Chantry Chapel but on Good Friday is brought into the Nave of St George's.
But let us not look only to the past but also to the future; this photo of an Easter Garden with an empty tomb seems particularly appropriate.