Over the course of a few days St George's Chapel will be seen in some very different television programmes:
On Thursday 31 May Griff Rhys Jones presents a programme following the Royal progress of Queen Elizabeth I from Windsor Castle to Bristol. The programme airs at 8pm on BBC1 and is the first of four programmes entitled 'Britain's Lost Routes'.
Griff Rhys Jones and the film crew are depicted in the Dean's Cloister during filming last September.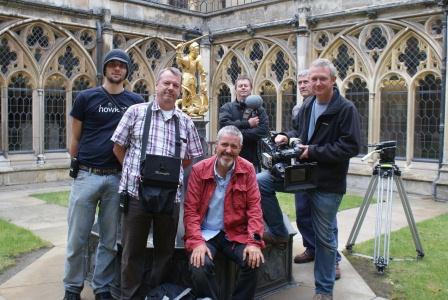 The following day a unique programme will be broadcast; it is a tribute by The Prince of Wales to The Queen to mark the Diamond Jubilee. Part of the filming with The Prince of Wales took place in the Quire of St George's Chapel. The programme will be shown on BBC1 on Friday 1 June at 8pm.
At 8.20pm on BBC2 on Saturday 2 June there is to be a special edition of 'The Culture Show' in which aspects of Royal portraiture are explored. Alastair Sooke (who filmed the misericords in the Chapel for a programme about the history of British Sculpture last year) presents the show.