The Royal Maundy Service was held in St George's Chapel on Thursday 14 April.  This year The Prince of Wales distributed the Maundy money on behalf of Her Majesty The Queen to 96 women and 96 men from across the country
Although records of Maundy expenditure were kept in official accounts in the Middle Ages, the information did not necessarily state where each Service was held.  However there were two occasions approximately 600 years ago when it is known that the Service was held in Windsor. In 1378 and 1423 the Services were presumably held in the 13th century chapel built by King Henry III (now the site of the Albert Chapel).
In more recent years the service has been held in St George's Chapel in 1959, 2016, 2018 and 2019.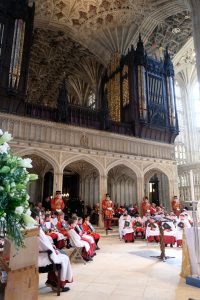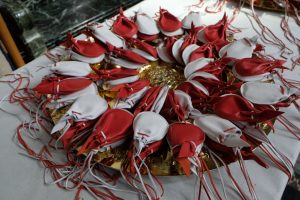 Each recipient received two purses, one red and one white. The red purse contained a £5 coin and a 50p coin portraying The Queen's Platinum Jubilee. Historically, this sum of £5.50 is made up of £3 for clothing, £1.50 in lieu of provisions and £1 which represents a piece of the Sovereign's gown which, before Tudor times, used to be divided between the Recipients. The white purse contained uniquely minted Maundy Money. This took the form of one, two, three and four silver penny pieces, the sum of which equals the number of years of the Monarch's age. This year ninety-six pence of silver coins (nine sets of ten pence per set and two threepences) were distributed to each recipient. The purses were carried on alms dishes, five of which are normally housed in the Tower of London, by The Queen's Bodyguard of the Yeomen of the Guard.
After this morning's Royal Maundy service The Prince of Wales and The Duchess of Cornwall joined others involved in the Service on the west steps of St George's Chapel including The Right Reverend John Inge (Lord High Almoner), the Right Reverend David Conner (Dean of Windsor) and the Yeomen of the Guard.