Richard Beauchamp was a younger son of Sir Walter de Beauchamp, a distinguished soldier and lawyer, and Elizabeth daughter of Sir John Roche.
He was Archdeacon of Suffolk in 1448 and installed as Bishop of Hereford in 1449 finally being translated by papal Bull in 1450 to the See of Salisbury.
From 1452 he appears to have acted upon occasions as Chaplain to the Order of the Garter and in 1475 was appointed by Edward IV as the first Chancellor of the Order with official lodgings in the precincts of Windsor Castle.  Beauchamp was made Master and Surveyor of 'works to be newly constructed', and by October 1475 work had begun and careful accounts for years 1477-9 kept by the Bishop on the building of the new Chapel for the Order of the Garter.   He was installed as Dean of Windsor in March 1478 and obtained a Bull from Sixtus IV authorising the removal of the body of John Schorn, Rector of Great Marsden, to the new Chapel.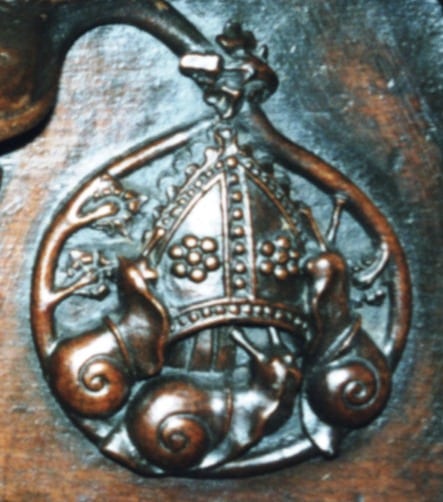 The arms of Bishop Beauchamp can be seen below a recess in the south wall of the south aisle, together with the arms of Beauchamp of Warwick and Beauchamp of Holt. The wood carving in the quire of St George's Chapel also contains the arms and badge, a snail, of Richard Beauchamp.  The snail appears on numerous misericords and also desk fronts with mitres and Garter motto. 
Opposite the recess in the south aisle is an inscription which refers to Bishop Beauchamp and prayers to be said next to the Holy Cross, represented by the Cross Gneth overhead.  The carved stone ceiling boss at the eastern end of the south aisle, King Edward IV and the Bishop are kneeling on either side of a Cross.  This represents the Cross Gneth which was believed to contain a fragment of the true Cross. 
Richard Beauchamp was Bishop of Salisbury for over 30 years and is buried in Salisbury Cathedral.  He was succeeded by Lionel Woodville, brother of Elizabeth Woodville, Queen Consort of Edward IV.
Enid Davies, Assistant Archivist