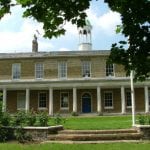 'St George's School Magazine' was initiated by George Foster who became Headmaster in the Christmas Term 1904. From its first edition, in 1908, it was published at the end of each term and always featured an editorial of events of the term, detailed descriptions of cricket matches played (with analysis of individual players' performances!) and also of soccer matches, comments on incidence of infectious illness among the boys, a full report of the annual school play and descriptions of important services at St George's Chapel or elsewhere in which the Choir had taken part. It also included news of Old Boys.  Frequently there are reports from Oxford and Cambridge contributed by Old Boys whilst studying as undergraduates and also letters from Old Boys living and working in British Empire territories.
The most prolific correspondent, W. G. Edwards, who had been a distinguished chorister in the 1890s, farmed in East Africa. He was the founder of the Old Boys' Club whose annual reunions were to include a cricket match, dinner at the school and frequently an entertainment for the boys.
In St George's Chapel Archives can be found copies of the school magazine from the first issue in 1908 to 1987 [SGC M.956/1-155].
Jill Hume, Archives Volunteer