Founded in 1481 by Sir Thomas St Leger in memory of his wife, Anne, the Rutland Chantry Chapel forms the northern transept of St George's Chapel.
 A copper wall plaque commemorates the couple, engraved with the kneeling figures of Anne, formerly Duchess of Exeter, older sister of Edward IV and Richard III, and of her second husband, Sir Thomas St Leger. It bears the following inscription:
Wythin thys Chappell lyethe beryed Anne Duchess of Exetur suster unto the noble kyng Edward the forte. And also the body of syr Thomas Sellynger knyght her husband which hathe funde within thys College a Chauntre with too prestys sy'gyng for eu'more. On whose soule god haue mercy. The wych Anne duchess dyed in the yere of oure lorde M Thowsande CCCCl xxv. 
Unsurprisingly, no mention is made of the fact that Anne divorced her first husband, Henry Holland, 3rd Duke of Exeter, nor that St Leger was executed for treason in 1483 by his brother-in-law Richard III after joining an unsuccessful rebellion led by the Duke of Buckingham.
However, it is the elegant alabaster tomb in the centre which dominates the Chantry Chapel. It was built in memory of George Manners, 11th Lord Roos (or Ros), who died in 1513, and his wife Anne, the only daughter of the Chantry's founders, who died in 1526. Lord and Lady Roos' eldest son, Thomas, was to become a favourite of Henry VIII and was created the 1st Earl of Rutland in 1525.
The tomb is not just a memorial to Lord and Lady Roos but is also a work of art in its own right. Made of alabaster, the carved figures, lying with their hands raised in prayer, form the main feature of the monument. On the right is Lord Roos who wears full plated armour, with flowers decorating the elbow pieces. His head is resting on a large helm crested with a peacock. Around his neck is a long collar of SS sewn on a band, a sign of high rank in the sixteenth century, with a large rose pendant. His gauntlets lie by his right leg. At his feet there is a unicorn. Sadly the horn of the unicorn has fallen off (one of the few evidences of damage to this fine monument).
Lady Roos wears a partlet and a long gown, with fluted and puffed sleeves frilled round the wrist, and a richly embroidered belt. Over all her robes she wears a mantle. On her head, which rests on two cushions, is an elaborately decorated angular lappet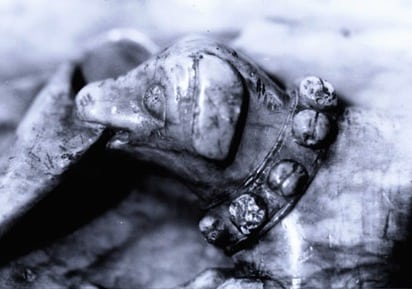 head-dress of a type fashionable in Europe in the late Middle Ages and round her neck can be seen a triple chain with pendant cross. Beside each of her feet, which are housed in square-toed shoes, is a little dog (a symbol of faithfulness) with a collar of bells. Interestingly both dogs are shown playfully biting the seam of her mantle.
The long sides of the tomb are carved with mourning figures: male "weepers" on Lord Roos' side and female "weepers" on Lady Roos'. Angels bearing coloured armorial shields appear on all four sides. The monument was restored between 1782 and 1793, during Henry Emlyn's great restoration of the Chapel, and again in 1843, under Thomas Willement, at the expense of the Duke of Rutland. It was cleaned, waxed and polished in 1951-52. The inscription which circles the upper edge of the tomb reads:  
Here lyethe buryede george Maners knyght lord roos who decesede/ the xxiii daye of October In the yere of our lorde god Mi Vc xiii and ladye Anne his wyfe dawghter of anne duchesse of exetur Suster unto/ kyng Edward the fourthe and of Thomas Sentlynger knight/ the wyche anne decessed the xxii day of apryll In the yere of our lorde god MiVc xxvi on whose souls god haue mercy amen.
This fine alabaster tomb, which once would have been brightly painted and gilded, has been described as 'one of the most beautiful monuments in St George's Chapel'.
Sam Leahy (Windsor Boys School)
Kristina Rayner (Sandhurst School)
Clare Rider (Archivist and Chapter Librarian)