The Choir of St George's Chapel comprises up to 23 choristers and twelve Lay Clerks singing alto, tenor and bass. The children are educated at St George's School which is situated in the Castle grounds, and the Lay Clerks live in the Horseshoe Cloister, just to the west of the Chapel, and on Denton's Commons.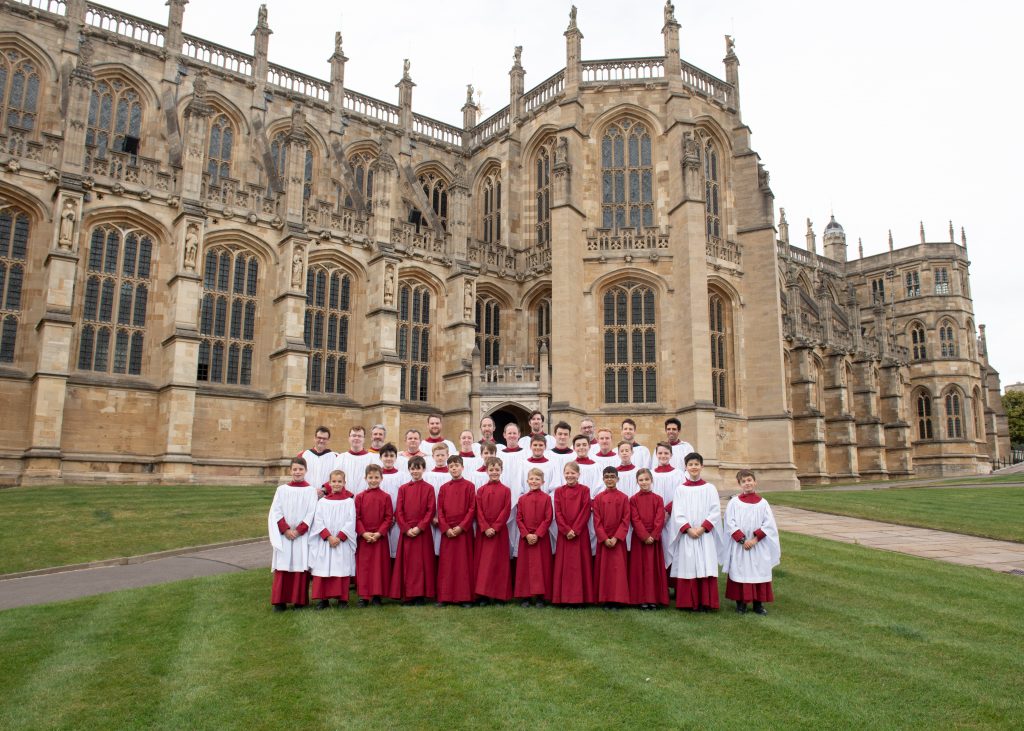 The primary function of the Choir is to sing the daily services, the Opus Dei, and the large repertoire of music drawn from all ages and traditions.
St George's Chapel exists to provide a place to give thanks to Almighty God and to pray for the Sovereign and the Most Noble Order of the Garter, and the work of the choir is central to that aim. The choir was founded at the same time as the founding of the College in 1348 and, with the exception of the Commonwealth period (1649-60), has sung the services continuously since then. The choir sings regularly in the presence of the Queen and other members of the Royal family, and in recent times sang at the marriage of Prince Edward and Sophie Rhys-Jones; and at the Service of Prayer and Dedication following the Marriage of HRH the Prince of Wales and HRH the Duchess of Cornwall. It sang also at services to mark the 80th birthday of Her Majesty the Queen and the 90th of HRH the Duke of Edinburgh. In 2018, the choir had the privilege of singing at both Royal Weddings in St George's Chapel: for TRH The Duke and Duchess of Sussex in May, and for HRH Princess Eugenie and Mr Jack Brooksbank in October.
As well as the choir's work within the Chapel, it has won acclaim for its singing in concerts and recordings, both in Windsor and elsewhere. It regularly collaborates with London based ensembles and regularly gives one of the principal concerts in the Windsor Festival. The choir has produced a number of CDs. Abroad, the choir has been heard in the USA, France, Holland, Poland and Spain.
In 2006 and 2007 the Choir made trips to the USA, and in 2013 the Lay Clerks embarked on a successful concert tour of Nuremberg, Munich and Salzburg, raising the profile of the College and bringing the sound of St George's to many hundreds of new listeners abroad. The full choir returned to Munich in 2015, and most recently visited The Netherlands in 2017.
For a list of services in the coming week complete with music list please click here.