This section features an occasional series of informal interviews with individuals associated with the music at St George's Chapel.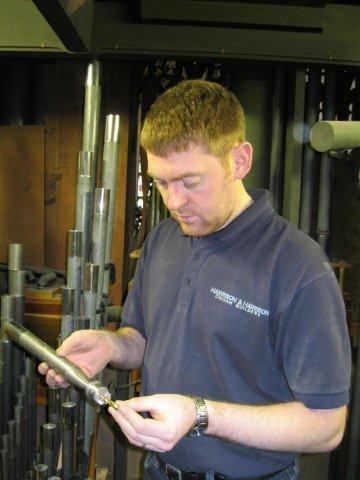 In this first edition, we meet Andrew Scott who tunes and maintains the organ in St George's Chapel.
Who are you, and who do you work for?
My name is Andrew Scott and I work for Harrison and Harrison Organ Builders, who are based in Durham.
How long have you worked for them?
I've worked for Harrisons for 16 years now.
Tell us a little bit about how you came to work for an organ builder.
I was fortunate enough to be a chorister under a retired Cathedral organist in a parish church, Christ Church, North Shields, where I come from, and he was Diocesan Organ Advisor. I got very enthusiastic about the organ and at the age of 13 decided that when I left school I was going to be an organ builder, and here we are today.
What is involved in learning to become a tuner and builder?
We have a very structured apprenticeship in Durham where during the 4 years of the apprenticeship you spend time learning every area of the craft. Not many people specialise in tuning and voicing because we try to get people who wanted to go into that field to show willing, so for the first year you'll be spending time holding notes for a tuner, making trackers, and then eventually going on to leathering mortars and leathering bellows, and then going out tuning, and voicing in the workshop.
What would you say is the largest project that you have worked on to date?
Probably Stockholm City Hall which they say is the largest organ in Northern Europe (Northern Europe not being very big!), which is a big 5 manual organ we restored a couple of years ago.
What else do you do when you're not being an organ builder?
Well, I spend a lot of time in churches, as I'm also a church musician and I play the organ and direct choirs and I was very privileged to be able to bring my choir here [to St George's] last year to sing for the Sunday services in the choir's holiday.
Do you have any further ambitions?
Well, I've been tuning the organ here at St George's for 11 years so its been great in that time, but further ambition, I'm very happy in the role that I am now, being able to look after the organ here, Westminster Abbey, Westminster Cathedral, the Royal Festival Hall, but also the smaller organs in the smaller Parish Churches as well because they are just as important as the likes of St George's.