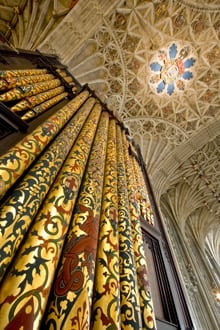 The organ in the chapel has a long and distinguished history. Detailed knowledge of the instruments in there begins in the 17th century, when the great organ-building family of Dallam built a new organ.
King George III paid for a new organ built by Samuel Green in 1789 and through the 19th century improvements were made by the firm of Gray & Davison.
A drastic rebuild of the organ took place in 1930 when it was decided to move the instrument from the centre of the screen to the sides, allowing an unimpeded vista of the roof vault of the chapel. This work was done jointly by Frederick Rothwell and J.W.Walker & Son, a most unusual collaboration, if not unique. Controversially the organ was equipped with two consoles whose complex mechanisms allowed each to be played simultaneously and independently. By the 1960s this mechanism had started to fail and a further major rebuild by Harrisons of Durham followed in 1965 in which the organ was completely redesigned by Sidney Campbell, organist at the time.
In 2002 Harrisons dismantled the instrument, cleaned and renovated it, and provided the console with a new and more flexible piston mechanism. The organ is currently in the care of Nicholson & Co. Ltd. of Malvern and in autumn 2019, Nicholson's will update the console stop action and provide a Swell Sub Octave coupler. At the same time, the opportunity will be taken to make some selective tonal revisions to the instrument.
The chapel also possesses a three-stop chamber organ which was built by the late Peter Collins and is often used in the daily services. This organ was acquired by the chapel in 1986 and was restored and cleaned by Peter Collins in 2014.